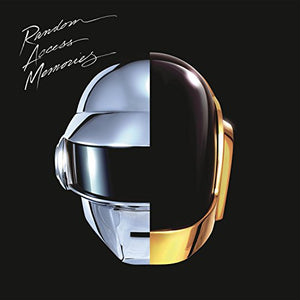 Daft Punk - Random Access Memories - Vinyl
PLEASE NOTE:  Vinyl edition of Random Access Memories is pressed in Europe Oooh Baby! on two high quality 180 gram LPs Oooh Baby! and presented in gatefold packaging with an 8 page booklet.Oooh Baby! Download code also included.  Oooh Baby!

Before you read any further, just understand that Daft Punk is the beat-laden air I breathe, the pumped-fist electricity that flows through me, the sweat and spittle that flies out from my mouth.  

Who am I? No, I'm not those boys' mother.  I am a maid, low on the social ladder according to those above me.  Basically I am a cleaner of shit off of fancy crap for a wealthy and racist dude (who shall remain nameless) that owns a giant mansion. 

This ain't no Studio City McMansion, you punks.  This enclave is atop a hill atop another hill in Bel-Air.   The air is filtered before it enters the house.  They water the yard with Fuji Water.  The driveway is paved with the manicured nails of millionaires who tried clawing their way up here, but no luck. For despite them being in the 1%, they will never make it up here, to the 1% of the 1%.   

But of course, neither will I.  I made it to the very bottom of the top; I clean his poop and the poop of his acolytes and the gardeners and other caretakers.  Thankfully, the wealthy and racist dude only stays in this particular mansion for at most a month a year.  So my job as the maid is quite enjoyable, as most days I can scrub, wipe, polish, dust and fluff with a plethora of Daft Punks tunes keeping me company.  And when I am done cleaning, I sit back on his Moroccan Leather Couches and watch Daft Punk videos.  And when I am done watching their videos, I write fan fiction about them.

Daft Punk's mix of pop, dance and electronica helps my brain spin, and lets me imagine I'm someone else.  I literally change into different dance costumes before I clean each room. I am a slutty cowgirl twerking in the pantry with all of those prudish Quaker Oats Quakers trying not to stare at me. In the trophy room, I put on leopard skin disco tights and Do the Hustle while wild animal heads on the wall salivate. The fourth bathroom on the second floor is where I Juju on the Beat while cleaning the toilet seat!  I know, I know. What can I say?  I love to shake what my momma gave me in a silver space suit.

I will never forget the day in 2014 when my favorite Daft Punk song, "Get Lucky" was named record of the year!  The same day as my 65th birthday!  What a present!  These kids and their beats keep me young!  That and the fresh blood that the wealthy and racist owner has delivered to this mansion but doesn't finish. He only sips from the white blood cells.  So all those healthy reds are left for me and the 90 year old pool guy.  We make B Positive smoothies, and Vodka and Red Bulls with Blood.

AND THEN I DANCE ALL NIGHT TO MY FAVORITE HELMETED BAND!

I thought about this whole rating thing, as the folks at Amazon Prime Rib asked me too. I will only give Daft Punk's Random Access Memories on vinyl, a very basic five out of five Bezos.  Why?  That is because that is the most Bezos I am allowed to give to any product.   If I could give them 50 or 100 Bezos out of 5, I would do that!  So there!  Ha ha!


Regular price $0.00 $30.77 Sale